About the European Solar PV Industry Alliance
Launched by the European Commission and led by EIT InnoEnergy, the European Solar PV Industry Alliance facilitates innovation-led expansion of a resilient industrial solar value chain in the EU, in particular in the PV manufacturing sector. The Alliance supports the growth of a European industry that is developing and commercialising breakthrough technologies along the whole value chain, leading to more innovative, efficient, circular and sustainable products, and making the EU's climate and energy objectives more attainable.
Scaling up the production of solar PV panels and value chain components in Europe will contribute to the EU's competitiveness and job creation and complement import diversification strategies to better protect against risks of supply disruption. The EU Solar PV Industry Alliance aims to create the right conditions for investment in large-scale PV manufacturing capacity in Europe, across the solar PV value chain, by de-risking and accelerating industrial projects, by supporting the diversification efforts and by further promoting the competitive technological advantages.
The Alliance brings together businesses and other stakeholders interested in supporting European solutions to increase EU production capacity of PV panels and components and to diversify supply sources for products, components and raw materials. It will implement relevant actions facilitating investment, notably identifying and unlocking synergies across EU and Member States investment programmes in the area of innovative solar PV. This will contribute to creating the momentum for European industry to grow and strengthen the EU's position on the next generation of solar PV technologies. Participation in the Alliance also serves to assist industrial actors to overcome difficulties and scale up to a level to compete effectively on the market.
The Alliance will elaborate and implement a Strategic Action Plan on the basis of seven key tasks: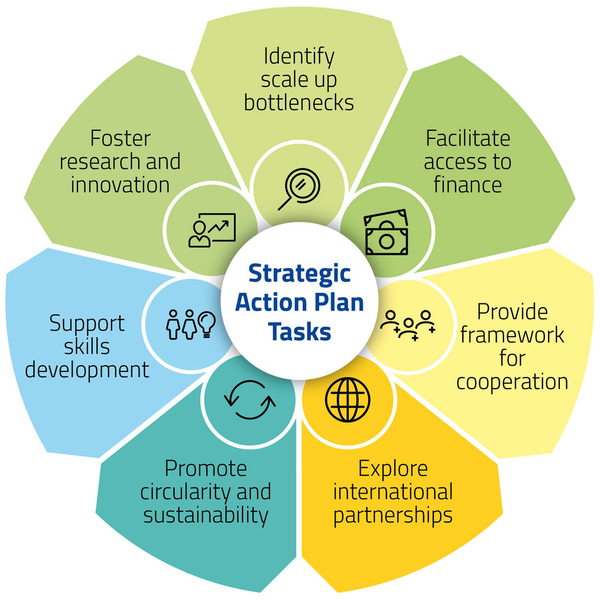 The first priority actions for the alliance are:
Mobilising public and private finance for European solar PV manufacturing projects to scale up capacity, making best use of all existing and new European financing instruments, notably: the Innovation Fund clean technology manufacturing window in the current large-scale call, the REPowerEU chapter in the national recovery and resilience plans, the EIB contribution to expanding the EU's clean energy technology manufacturing capacity in the context of REPowerEU.
Ensuring a sustainable level playing field and stimulating demand for competitive, efficient and sustainable PV products and systems.
Working on the swift implementation of ecodesign requirements for PV systems and products and on public procurement actions.
Anticipating the skills requirements of this new industry with the start of the European Solar PV Industry Alliance Academy.