The European Solar PV Industry Alliance is comprised of a network of organisations that are active in the area of solar PV in the European Economic Area both in the private and public sectors. The Alliance brings together businesses and other stakeholders interested in supporting European solutions to increase EU production capacity of PV panels and components and to diversify supply sources for products, components and raw materials.
There is currently an open call for members.
Who can join
The alliance is open to all public and private entities with relevant activities in the area of solar PV, including companies and associations, social partners, education and training providers, research and technology organisations, investors, civil society organisations, and representatives of EU countries, regional and public authorities.
Joint Statement document
On the occasion of the launch of the European Solar PV Industry Alliance on 9 December 2022 and beyond, particularly in view of setting out the priorities for 2023, a large number of solar companies have signed off the below Joint Statement document.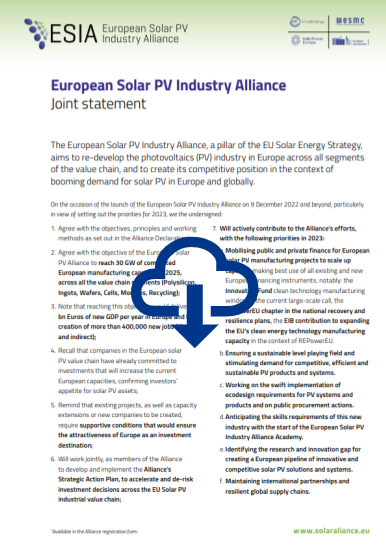 ESIA Joint Statement_0223
PDF 1.17 MB
Download