The European Solar PV Industry Alliance
The alliance aims to accelerate solar PV deployment in the EU by scaling-up to 30 GW of annual solar PV manufacturing capacity in Europe by 2025, facilitating investment, de-risking sector acceleration, and supporting Europe's decarbonisation targets.
Launched by the European Commission in 2022, EIT InnoEnergy is leading the alliance as Secretariat and joined by SolarPower Europe and the European Solar Manufacturing Council on the alliance's steering committee.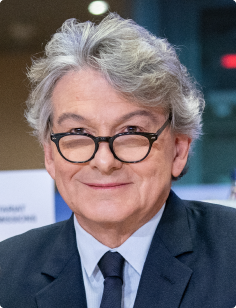 "To meet Europe's renewable energy objectives — and avoid replacing a dependency on Russian fossil fuels with new dependencies — we are launching an industrial alliance for solar energy. With the alliance's support, the EU could reach 30 Gigawatt of annual solar energy manufacturing capacity by 2025 across the full PV value chain. The alliance will foster an innovative and value-creating industry in Europe, which leads to job creation here. Europe's solar industry already created more than 357,000 jobs. We have the potential to double these figures by the end of the decade."

Thierry Breton

European Commissioner for Internal Market
Developing a resilient European solar PV manufacturing value chain
To deliver the EU Solar Strategy objectives, the alliance will re-develop, de-risk and accelerate the PV industry in Europe across all segments of the value chain to create its competitive position in the context of booming demand for solar PV in Europe and globally.
The goal of the alliance

The targets set by the alliance, together with the European Commission, are to develop an industry to supply an annual capacity of 30 GW by 2025, adding 60 billion Euros of new GDP every year in Europe and creating more than 400,000 new jobs (direct and indirect).

Working across the entire value chain

The alliance will foster an innovative and value-creating industry in Europe, by scaling up manufacturing of innovative PV products and components. Bringing key industry stakeholders together, the alliance works across all value chain segments including polysilicon, ingots, wafers, cells, modules and recycling.


What are the priority actions?

The alliance will first focus on: financing for European solar PV manufacturing projects, ensuring a sustainable level playing field, swift implementation of ecodesign requirements for PV systems and products, and anticipating the skills requirements of this new industry with the start of the European Solar PV Industry Alliance Academy.